During our journey, we have been fortunate enough to receive help and support from a number of childhood cancer charities. Quite a few of these I had never heard of until we needed them but I will be forever grateful for all they have done for us. Here are the childhood cancer charities that have helped and supported us.
Updated April 2023.
Molly Olly's Wishes
Molly Olly's Wishes is a charity formed by the parents of an 8-year-old girl called Molly Ollerenshaw who battled cancer for much of her life. Molly Olly's Wishes aims to help children with life-threatening illnesses and their families by providing therapeutic toys and books to help children to understand the procedures and side effects of treatment. Olly The Brave is a cuddly lion who has a removable mane and a Hickman line, referred to as wigglys and a series of accompanying books. The Dinosaur was given an Olly The Brave and three books: Olly The Brave and The Wigglys, Olly Being Brave and Chemotherapy & Olly The Brave for Brothers and Sisters – Ben's Big Stuff. The toy and the books have helped the Dinosaur to understand what is happening to him, why he sometimes has wigglys and why his hair is falling out. The books have also helped the Unicorn to understand why all these things are happening to her brother and that all the feelings she has are normal and are ok.
Molly Olly's Wishes also grant wishes to children with life-threatening illnesses such as bedroom makeovers, garden makeovers, equipment to make life easier or toys and games to entertain children during treatment and hospital stays. The Dinosaur was granted a wish by Molly Olly's and received a Nintendo Switch, a carry case and two Paw Patrol games. This is one of his favourite things to request from the play therapists when he is in the hospital and it also means that he can play with his family when he is at home as well. This article from Boo, Roo and Tigger Too has some excellent educational Nintendo games to help keep that mum guilt at bay.
Young Lives Vs Cancer (Formally CLIC Sargent)
One of the childhood cancer charities that has provided a huge amount of support to us is Young Lives Vs Cancer. They have provided support right from the word go and will continue to provide support throughout treatment and beyond. When we were still in the initial 2-weeks of treatment we were introduced to Janet who is a Young Lives vs Cancer Social Worker. She gave us huge amounts of information about everything non-medical such as benefits and Blue Badge advice, grants that we were entitled to, other charities that may be able to help us and other places we could gain support. We were also given a £100 grant from them to help with some of the initial costs associated with a childhood cancer diagnosis (read more about the costs of cancer here).
Dexter's Odyssey
Dexter's Odyssey work alongside the Bristol Young Lives vs Cancer Social Worker to give a small gift to parents when their child is diagnosed with cancer. When Janet came to see us she brought with her a Braun digital thermometer and probe covers, £20 of vouchers for a cafe across the road from the hospital and a £40 One For All gift card, all of these were supplied by Dexter's Odyssey.
Wiggly T
Wiggly T is a Gloucestershire-based charity that was set up by a fellow cancer mum to help her child with the trauma of having their port (a type of central line) accessed. They aim to give one custom-made, easy-access top to every child with a central line. The child can choose whether they have long or short sleeves, what colours they have and what kind of pattern they want on their top. They make tops that unclip at the top, all the way down the side or babygrows for infants. The Dinosaur chose a short-sleeved top in blue with a dinosaur pattern.
Supershoes
Supershoes is a UK-based charity that empowers children with cancer to get active. They do this by providing the child with a pair of hand-painted and custom-designed Converse trainers to encourage them to keep moving. The Dinosaur's high tops are painted with dinosaurs and have his name on the side in his favourite colour. Each pair of shoes is truly unique as they are designed to reflect the recipient's favourite things.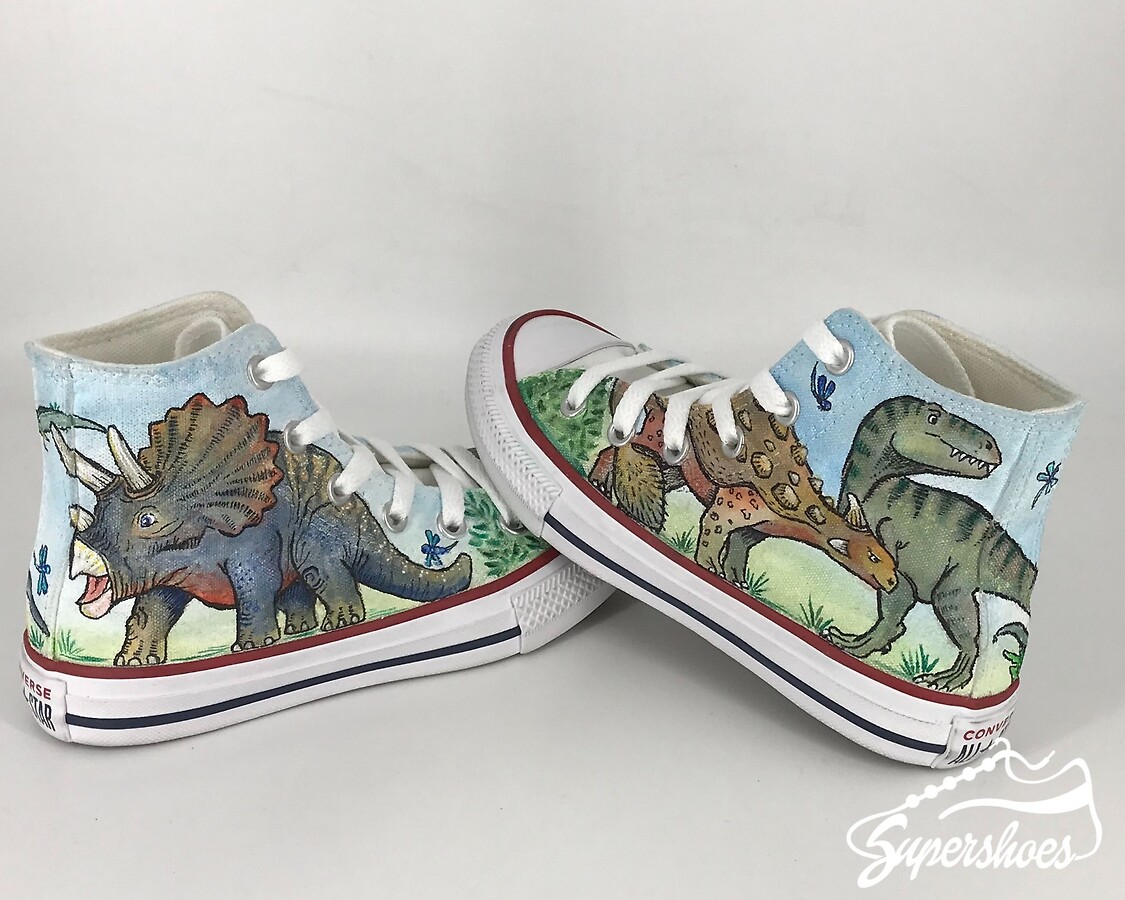 Hug in a Blanket
Hug In A Blanket provide handmade personalised blankets to children living in the UK who have long-term, life-limiting, terminal, physical or mental health conditions. Each blanket is made by volunteers and is based on the child's interests and favourite colours.
As you can see, the Dinosaur's favourite colour is blue and the special squares on his blanket are Blippi, dinosaurs, Paw Patrol, Doc McStuffins, Super Mario and Nintendo. It also has his name on it.
Beads of Courage UK
Beads of Courage UK provide glass beads to children with serious, life-threatening and life-limiting illnesses in the UK. There are different coloured beads that mean different things and they are given to children for each event that happens in their treatment journey. For example, a red bead for a transfusion, if a child has 2 transfusions in a day they will get 2 red beads and a black bead for pokes so if a child has an injection and a cannula then they will get 2 black beads (1 for every time a needle punctures the skin). There are lots of different beads available and children soon rack them up.
Pied Piper Appeal
The Pied Piper Appeal supports Gloucestershire hospitals and has provided things like nice curtains and Dyson fans for the children's wards to make them more comfortable and less clinical. They also provide toys to the hospital which can be used by the play therapists to help the children who are receiving treatment and can also be used as gifts for bravery when the child has had a particularly distressing procedure.
Cancer Research UK
Wow. What can I say about Cancer Research UK? This is truly the godfather of all cancer charities and not just childhood cancer charities. They are the people responsible for finding and improving treatment which is directly affecting the Dinosaur. He is currently taking part in a Cancer Research UK trial to improve leukaemia treatment for children, not just in the UK but internationally. Historically, leukaemia has always been over-treated but this trial places patients in different groups based on their risk factors. The lower the risk factor, the less treatment you have. You can read more about the ALLTogether1 research trial here.
Read For Good
Read For Good encourage reading for comfort, distraction, reassurance and entertainment. They supply books to children in hospitals for them to keep. The Dinosaur always loves it when the book trolley comes around and he gets to pick a new book, he's always loved stories so this is very special for him. Now that Covid restrictions have eased, Read for Good is able to send volunteers into the hospital who can go around and read stories to the children, the Dinosaur always enjoys this as the chap who visits our ward is incredibly engaging and does all the voices as well as asking questions about the story.
Grace Kelly Childhood Cancer Trust
Grace Kelly Childhood Cancer Trust has helped us in a couple of ways, the first was when we were given a book for us to read to the Dinosaur to help him to understand about having a port. The second was when our Young Lives vs Cancer Social Worker told us about a grant that we could apply for to help with some of the costs of cancer (you can read more about that here). We are also fortunate enough to have access to a support worker through Grace Kelly who can provide assistance by helping with school runs, having a chat over a coffee, doing activities with the children and going into school to talk to staff and/or pupils about the Dinosaur's needs.
Children's Cancer and Leukaemia Group (CCLG)
The Children's Cancer and Leukaemia Group (CCLG) is an absolute goldmine when it comes to information. We have been given a few of their publications to help us and other family members come to terms with the diagnosis, books to help the Dinosaur understand what is happening to him and why, books to help the Unicorn understand what is going on when she's not allowed to see him and booklets to help us look after him and cope with the changes he is experiencing. The great thing about all their resources is that they are available as free downloads so you can easily access them yourself or send the link to people who may need the information such as schools or caregivers.
Recently CCLG has provided me with mental health support in the form of the Hope Programme which is a free online group self-management course and is designed to help parents of children with cancer find their own ways to cope with the diagnosis. The programme is funded by CCLG and was developed by researchers at Coventry University supported by Bethany's Wish.
Leukaemia Care (Ann Ashley Fund)
As I'm sure you can imagine, I found my son's cancer diagnosis a lot to process. It was hard coming to terms with his illness, the treatment and what that was doing to him, the side effects of everything, the change in the family dynamic, the transformation from mother to nurse/carer and my fears for the future (or even if there would be a future). I realised that I needed help but sadly I could not access mental health support via my GP as all that was on offer was support to overcome trauma. As my trauma is ongoing, this was not suitable. Fortunately, I spotted a post on social media from Leukaemia Care that said that they had funding available via the Ann Ashley fund for private counselling so I applied and was granted funding for 6 sessions. As I write this, I am, halfway through my sessions and they have been phenomenal. My entire mindset has changed and now I am much more positive. Of course, I still get upset and worry about the future but this doesn't overwhelm me now that I have found tools to cope.
Give a Duck UK
The Give A Duck Foundation provide Chemo Ducks to children with cancer. These ducks are fitted with central lines just like the child so that nurses and play staff can use the duck to help prepare the child for their procedures. Each duck comes with a passport and the child can get it stamped and pick up a new outfit for their duck each month.
Merlin's Magic Wand
Merlin's Magic Wand is the charity attached to Merlin Attractions (Legoland, Chessington, Alton Towers etc.) They provide magical days out at the top attractions for children with life-threatening and life-limiting illnesses. We chose to go to Legoland Windsor on the weekend of the Dinosaur's 5th birthday. To make our trip extra special, we used some money that friends and well-wishers had raised for us to book a night at the Legoland Castle Hotel and a 2nd day in the park
The Grand Appeal
The Grand Appeal is the charity for Bristol Children's Hospital. They provide toys, games and entertainment for their patients as well as providing accommodation for families who have had to travel long distances, equipment for the hospital and also help to fund research.
In addition to this, in 2022 they started the Make a Move event for children (and their families) who are or have been treated by the oncology and haematology wards. The event is designed to promote exercise and allows families to try out a range of different sports.
Cyclists Fighting Cancer
When we went to the Make a Move event we met some of the team from Cyclists Fighting Cancer who were there to encourage movement by cycling. They were also measuring the children for bicycles so that they could be given brand-new bikes and helmets.
Fatboys Charity
Fatboys Charity spends the year raising money so that at Christmas time they can give gifts to children with cancer or other life-threatening illnesses. The gifts are delivered by elves who are all volunteers. The Dinosaur's gift was delivered by Fred, his Dad Jamie and his brother Noah. Fred also has Acute Lymphoblastic Leukaemia and received a gift from Fatboys in 2021.
Barrie Wells Trust
The Barrie Wells Trust allows children with cancer and other life-threatening conditions to have a VIP experience at shows and sporting events across the country. Often the children and their families are able to access a VIP box at a stadium or arena to see the match or show they have been invited to attend. We went to see Paw Patrol Live and then had a meet and greet with a photo shoot afterwards.
Harvey's Gang
Harvey's Gang aims to take the mystery out of blood tests. Children with cancer, especially leukaemia, will have lots of blood tests carried out during the course of their treatment. Often the sample is taken and then sent off to the lab and it can be hours before the results come back. Harvey's Gang invites children and their families to visit the pathology lab and become scientists for the day. The families are shown what happens to their blood sample when it arrives in the lab as well as seeing how blood products are stored and prepared.
Calum's Cabin
Calum's Cabin provides holidays for children with cancer and their families so that they can spend quality time together making memories and recharging their batteries for what may lie ahead. They have holiday homes on the Isle of Bute and in Ayrshire in Scotland.  They also have flats in Glasgow close to cancer treatment centres which allow families from across the country to stay together in welcoming, home-from-home surroundings during extended periods of treatment. 
Calum's Cabin is named after Calum Speirs who lived on the Isle of Bute with his parents and twin sister. He was diagnosed with a brain tumour when he was just 11 years old. During his treatment, he was very aware of how lucky he was to live in such a beautiful place and he wanted to be able to give other children with cancer the chance to experience that so he and his family started fundraising to purchase a holiday home. Sadly Calum passed away before enough money had been raised so his family decided to carry on fundraising in his name.